Scott Bader UK cycle team to complete 416 miles in 4 days for Action Duchenne
Scott Bader UK's cycle team are once again embarking on an epic cycle for a fantastic cause.
On 23rd June 2022, the Scott Bader team will set off from the West of Wales towards the East of England on a 416 mile cycle over 4 days. The team are completing the gruelling cycle in aid of Action Duchenne, a UK charity supporting families living with Duchenne Muscular Dystrophy.
Scott Bader UK's cycling team for 2022 includes James Philo, Sean Beaumont, Gary Carter, Chris Brooke, Stephen Buckley, David Toyer, Nigel Rogers and Jourdan Bounds. Jourdan & Nigel will be in the support vehicle, ensuring the team are on track and providing the vital support that is needed on road cycles.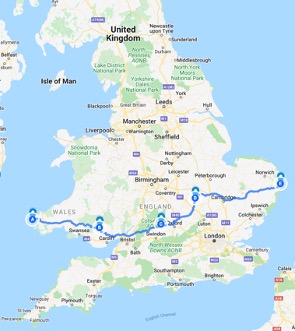 If you would like to donate to support the Scott Bader UK cycle team, you can do so by clicking here:
Why Action Duchenne?
James Philo suggested cycling in aid of Action Duchenne as it is close to his heart with his close friend planning to complete the Great North run together later this year for the same cause. They are running, and Scott Bader UK is cycling, for their close friend Rachel and her friends son Ollie, who has Duchenne Muscular Dystrophy.
When speaking to James, Julie, Ollies mum explains:
"Ollie is 13 years old and has Duchenne Muscular Dystrophy which is a life limiting muscle wasting condition. He was diagnosed at 4 years old and has progressively got worse. Typically, boys (mainly affects boys but there are some girls affected) are full time wheelchair users by the age of 12 (Ollie is in a wheelchair full time). It then will affect their arms, body (they tend to have curvature of the spine) and then their lungs and ultimately heart which is why the average age expectancy is 25-30. Currently there is no cure for Duchenne Muscular Dystrophy but charities like Action Duchenne are involved in research and raising awareness of the condition.
Ollie is a funny, loving boy who goes through a lot in life but always has a smile on his face. He is pretty amazing really! He is a huge football fan and a massive Newcastle United supporter!
Action Duchenne are a fantastic charity who have supported us as a family. They give massive support to all families from diagnosis and beyond. Many of the people who work or volunteer for the charity are parents of children with Duchenne."
Scott Bader UK's cycling team
In 2018, the Scott Bader UK cycling team rode, in 24 hours, from Scott Bader's UK Headquarters to Scott Bader France, in Amiens. The team covered 268 miles in under 24 hours to raise money for Restos du Cœur and Re-Cycle.
In 2019, the team rode from Land's End to John O'Groats, covering 1000 miles and raising over £21,000 for Kettering General Hospital and the Air Ambulance.
Quite the record. Now, after a prolonged break to due to Covid, the team are back and ready to take on their next challenge!