Godric Bader – EO Champion 2021
 We are delighted to say Godric Bader, former Managing Director and Chairman of Scott Bader and the son of our founder, Ernest Bader, is the EO Champion for 2021.
To learn more about Godric Bader, we need to go back to the beginning of Scott Bader's story. Ernest Bader, Godric's father, founded E Scott Bader in January 1920 (Scott being his wife's maiden name) and in 1923 transformed it into a private, limited company as Scott Bader Company Limited. In those days activities were largely confined to the buying and selling of celluloid and chemicals but in 1932 they commenced processing of pigments and other products for the paint industry. The company progressed, but in 1940, when the severe air attacks made business difficult in London, the business moved to its current site, in Wollaston, Northamptonshire and continued to expand. 
Godric joined the family firm in 1947 and both he and his father had a shared vision to find a way to help people seek a better way of living, but also to identify an improved way of doing business and of running the world's industries. Determined to see their vision come to fruition, based on their Quaker beliefs, Ernest Bader and the family shareholders put the shares into a Charitable Trust administered by Members of Scott Bader Commonwealth Limited and external Trustees and thus in 1951 the Scott Bader Commonwealth (SBCW) was formed, an industrial democracy and registered charity.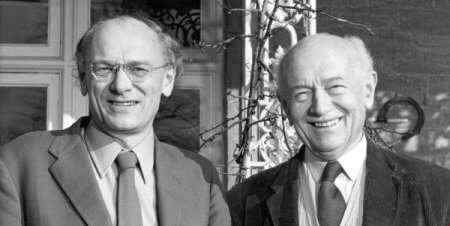 Godric was fundamental in the development and formation of the Scott Bader Commonwealth, and as the first company to hold a Common Ownership Certificate, Scott Bader was a trailblazer for this new type of business model with employee ownership at its heart. 
When the Commonwealth was formed, a set of Principles which we continue to operate by, were established. Today these are our Values: Commitment, Responsibility, Team working and Fairness – and are accepted throughout the Scott Bader Group as the key principles we work by and are measured against. 
It was through his tenure in key positions within the company – Managing Director of Scott Bader Company Limited from 1957 to 1971, and Chairman of Scott Bader Company Limited from 1966 to 1989 – that Godric guided and evolved this innovative employee-owned business model over the years. The legacy he has brought to the business has been widely recognised and today, he is Life President of Scott Bader and, after having received The Gandhi Peace Award in 2014, he was made a Patron of the Gandhi Foundation. 
Godric Bader, you are the Employee Ownership Champion 2021! 
Scott Bader – Employee Owned