Scott Bader Commonwealth celebrate with recipients of Centenary Fund
On Monday 27th March, the Scott Bader Commonwealth were delighted to welcome three of the four charities who have received grants from its one-off Centenary Fund for large community-based projects!
The winning charities, voted for by Scott Bader Commonwealth Members globally, were Carers Worldwide, Karen Hilltribes Trust, The Mud House Children's Foundation and The Hands Off Foundation.
Scott Bader Commonwealth's Centenary Fund was launched last year in homage to Scott Bader's historic milestone of reaching 100 years in business on April 28th, 2021. The fund will provide each charity with £25,000 of funding for their community-based projects.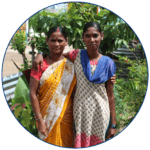 Ruth from Carers Worldwide joined us on Monday to celebrate and update on the project. The funding will allow Carers Worldwide to set up an income-generation training programme for 150 unpaid carers in India, which will directly benefit 780 people across 150 households.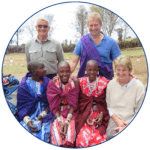 Silvia, from the Karen Hilltribes Trust, joined our celebrations on Monday and explained that the Scott Bader Commonwealth's support will allow the charity to transform the Karen Hilltribes water and sanitation systems to vastly improve the community's health.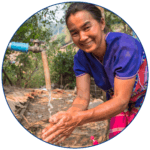 The Mud House Children's Foundation
Mum and daughter duo, Silvia and Nikki, celebrated with us on Monday. Following the news of their Centenary funding, the charity are working on plans to install a new borehole and water well for the Maasai community in Northern Tanzania. The new water collection systems will save lives and dramatically improve living conditions for the community.
But there is more to this story. Silvia and Nikki actually heard about the Scott Bader Commonwealth having met Sean and Gail on holiday. Sean and Gail, who both work in Scott Bader's Commercial team, raised the idea of applying to the Centenary fund having heard about the brilliant work the charity do. Nikki duly organised the application (whilst on holiday!) and the rest is history.
Silvia has recently been awarded an MBE from King Charles for services to education in Africa, which further highlights the amazing impact Silvia, Nikki and the Mud House Children's Foundation has had on the Maasai community.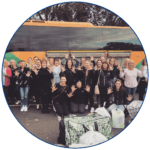 Unfortunately we couldn't welcome anyone from the Hands Off Foundation however, they held their own celebration in Australia and we can report their funding will go towards the creation and delivery of numerous care packages that will be given directly to survivors of sexual assault and family violence in Australia.
.