The Scott Bader Commonwealth support local South African community with relief support
Potspruit is a small rural farming community near Kranskop in South Africa. In April 2021, the community was badly affected by April flooding with houses submerged in water. The impact of the floods not only destroyed homes, but ruined the community garden that fed local families.
To support the Potspruit community, the Scott Bader Commonwealth donated a grant to LETCEE, a local charity established in 1993 that run projects in rural communities, such as Potspruit, providing help and support.
When the October rainy season began in 2022, the community feared the worst as the previous flooding was so bad it hadn't completely disappeared. For safety, the community were forced to flee their homes while trying to clear the water.
LETCEE were able to use the funding from the Scott Bader Commonwealth to help provide clothing and blankets, giving a total of 40 families the benefit of clean new clothes and something to keep them warm. Food parcels were also provided to put families at ease from having to find employment in these tough times. With farms flooded there was little food available and less employment opportunities.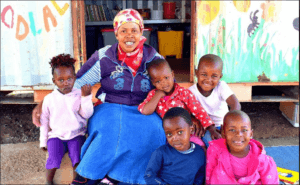 The biggest project within the community was re-establishing the community garden. On a new plot of land away from current flooding, LETCEE were able to help restore the garden to provide the community with seeds and fresh vegetables.
To ensure the families of Potspurit are safe in the future, LETCEE are continuing their efforts to help the community where required.
One of our key values, instilled by our founder Ernest Bader, is to make a positive difference to our local communities. The Scott Bader Commonwealth donation was requested by Scott Bader South Africa, based nearby in Hammersdale. We are pleased to support the Potspruit community through the brilliant LETCEE charity, who we will stay in close contact with.