Scott Bader Mocksville host historic groundbreaking ceremony
On Tuesday 2nd August, Scott Bader held a groundbreaking ceremony to mark the start of construction at their new $16m manufacturing site in Mocksville, NC!
In attendance from the local community was Will Marklin, Mayor of Mocksville, Mark Jones the County Commissioner, Terry Brawley from Davie County Economics, Kyle Bridges the District Director for Ted Budd US House of Representatives, Tammi and Brad from McCrory Construction and Stephanie Blair, Regional Representative for Senator Thom Tillis.
The Scott Bader Mocksville team, including group CEO Dr Kevin Matthews, hosted the ceremony that included speeches from Terry and Kevin before the traditional groundbreaking began (pictured below). It marked a historic moment in Scott Bader's illustrious history and the start of construction to develop its 110,000 square foot site into a state-of-the-art gelcoat and structural adhesive manufacturing facility.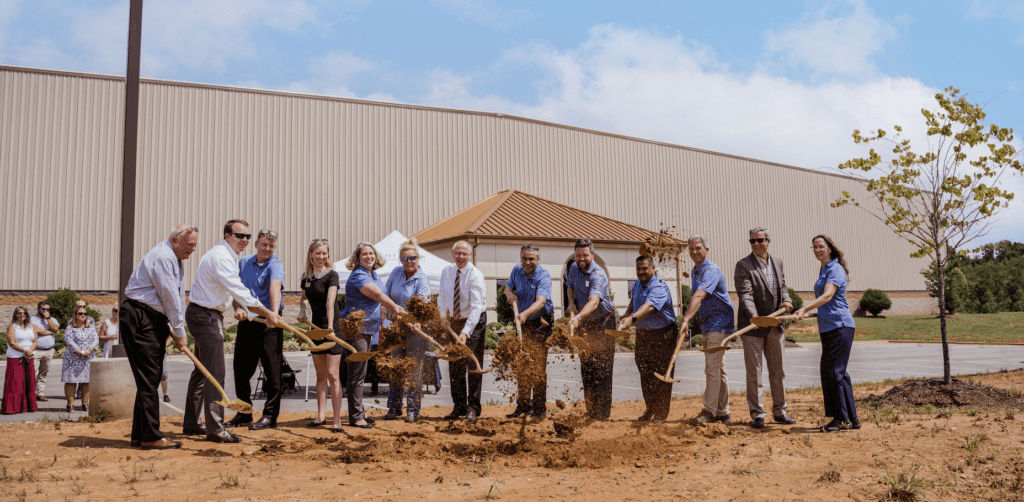 The new premises was specifically selected to tap into North Carolina's growing advanced manufacturing sector. Scott Bader Mocksville will be built with modern design principles and operate to GMP conditions, manufacturing a range of innovative Scott Bader products. The plant aims to be fully operational in 2023.
Scott Bader Mocksville joins Chamber of Commerce
Scott Bader Mocksville's recently joined the Davie County Chamber of Commerce.
For over 50 years the Chamber of Commerce has served the local business community as the catalyst of business growth and economic development. It believes in working together to promote a strong and vibrant business community throughout Davie County.
After joining the Chamber, Scott Bader looks forward to meeting the local community and getting involved in community events.