Scott Bader supports the World Land Trust's Buy an Acre Programme
As we celebrate 100 years of Scott Bader, we recognise that to look forward with confidence to the next 100 years, we have a responsibility to protect the natural world around us. Throughout 2021 we will be sharing some of the actions we are taking to not only mark our centenary, but to also protect the environment and reduce our impact on it, in line with our 2036 vision.
One conservation scheme we have chosen to support is the World Land Trust's (WLT) Buy an Acre programme. WLT is an international conservation charity that protects the world's most biologically significant and threatened habitats acre by acre. WLT maintain that habitat loss is the greatest threat facing wildlife worldwide and firmly believe that protecting land is the best course of action to ensure a future for wildlife. For every £100 donation to the Buy an Acre programme, a WLT partner will be able to purchase one acre of habitat and protect it in perpetuity for wildlife.
15 acres for 15 sites
Currently, Scott Bader has 15 offices worldwide, so when deciding how to donate to the programme, we thought it apt to support one acre per Scott Bader site by making an initial £1,500 donation. The donation will be used to support a project in Argentina called the Chaco Taguá Biological Corridor that aims to buy land to protect large areas of the Chaqueña ecoregion. The Chaqueña ecoregion represents the second largest forest area in South America, with 60% of this ecoregion based in Argentina. Click here to read more information about this project. We look forward to learning more as the Chaco Taguá Biological Corridor progresses.
We are very proud of our certificate confirming we have contributed to fund the work needed to create and protect this biodiversity corridor: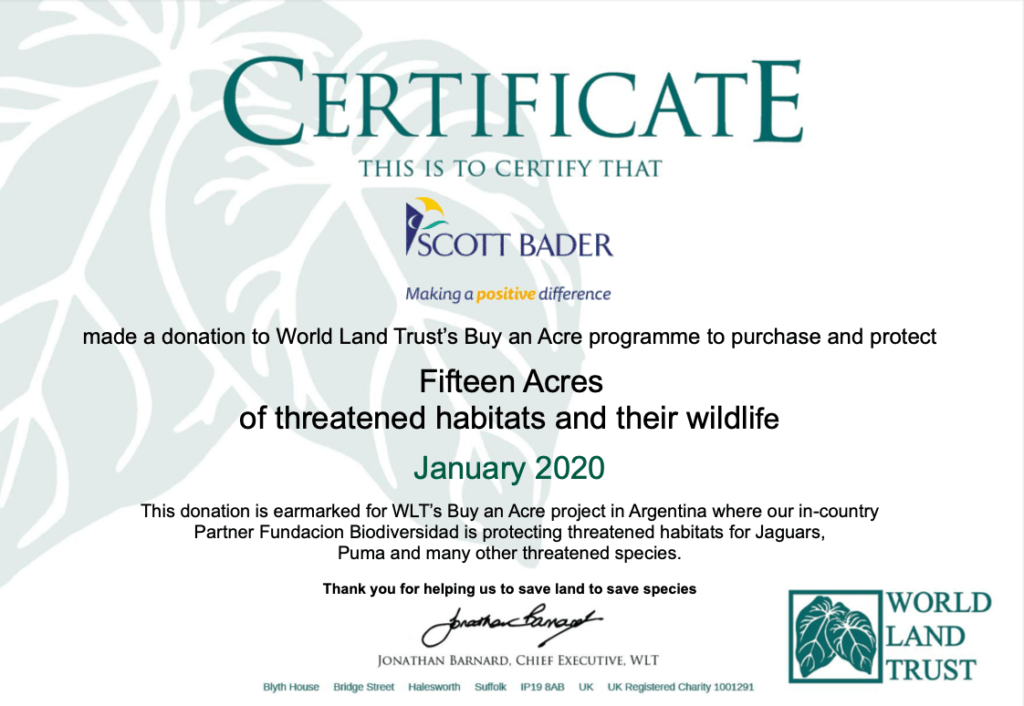 We look forward to supporting other WLT programmes in the future and wish them success with their ongoing international conservation projects.