Our social impact
The well-being of our colleagues, families and communities is at the heart of the Scott Bader Commonwealth ethos, and we believe no one should have to suffer from poverty, homelessness or abuse.
To ensure social impact stays at the forefront of every conversation and decision, all of our global sites have Commonwealth Coordinators who regularly meet to discuss their community issues and activities, share best practice and encourage colleagues around the world to engage with their local communities.
Charitable giving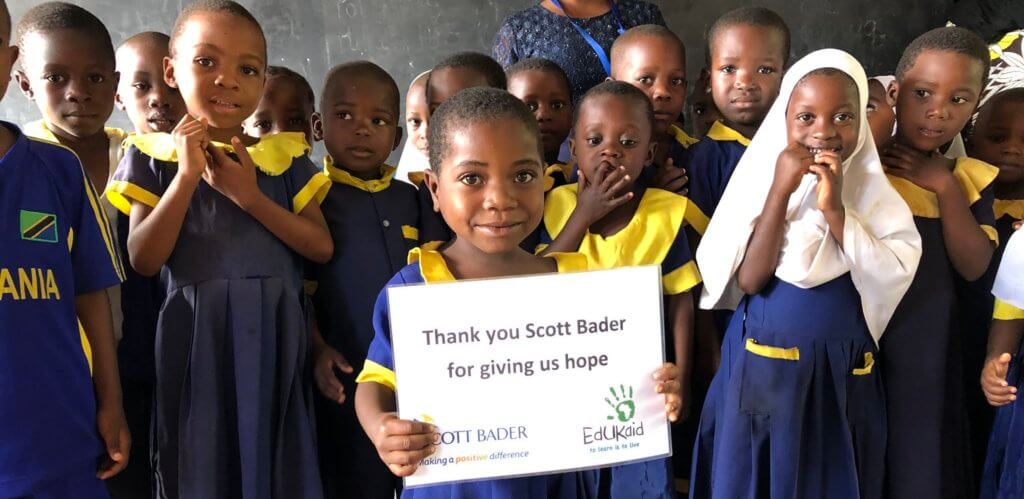 Every year, a minimum of 5% of Scott Bader's operating profit is given to the Commonwealth to be donated to charitable activities and projects around the world, structured in the following ways:
Glocal Strategy Fund
A 'think globally, act locally' approach where each site receives an allocation based on the number of colleagues to enable them to support local projects that address social and environmental issues.
LIVINGSTONE TANZANIA TRUST – To support the building of a new classroom block in Sawe, Tanzania, with a kitchen, which will improve access to and the quality of education for 1,600 children every year, enabling them to reach their potential and break the cycle of poverty, and ensuring every child receives a nutritious hot meal each day.
SEND A COW – To empower 1,100 vulnerable women farmers Petauke Women's Project, Zambia to achieve self-reliance, gender equality, food and income security, access to clean water, training in health and hygiene, and sustainable livelihoods. The project will enable the women to meet their family's food, nutrition, and income needs.
TASTE – To provide education to 3,000 adults and children on good water, sanitation and hygiene (WASH) practices, with training to 40 health promoters and establishing two solar powered boreholes with a capacity of 50,000 litre/day, with eight tap points supplying nearly 20,000 people.
ACE AFRICA – To improve long-term nutrition for 1,000 children and their families, through fruit tree cultivation in 20 primary schools in Western Kenya. Forty teachers will be trained in fruit tree production and management, expanding existing kitchen gardens run by the children themselves, for long term impact.

Commonwealth Community Hardship Fund
Any site can apply for a grant from £500-£10,000 (or the equivalent) to address local financial distress from COVID-19.
Action in Africa, £1,300 – To help provide critical equipment such as sanitisers, soaps and masks as well as a radio campaign to educate listeners on COVID-19 in Nyaishozi, in the Kagera district of Tanzania.
African Children's Fund, £1,000 – To support the poorest families in the Thika Community, Kenya with care packages including food and sanitary supplies.
Aid Africa, £2,607 – To purchase of 7.5 tonnes of maize to provide food for around 100 vulnerable families in Malawi.
Changing Life Organisation, £1,000 – To fund awareness campaigns to educate surrounding communities in Georgedale and Hammarsdale South Africa on the symptoms and preventative measures to be taken for COVID-19.
Concern Worldwide, £3,859 – To help build long-term socio-economic recovery from the COVID-19 pandemic in the Central African Republic, reaching a total of 1,700 individuals through cash for work activities.
Daylight Centre Fellowship, £3,000 – To support the Northamptonshire Emergency Food Aid project in response to COVID-19. The meals cost £1 per day, meaning this funding will provide 3000 meals to people in need.
Edukaid, £5,058 – To provide materials for the construction of six permanent hand-washing stations in schools in Tanzania.
Family Support Link, £4,925.52 – To provide a support nurse for 7.5 hours a week to help support families who have a loved one with alcohol and drug issues.
Feeding America, £7,495 – To help with the rising need for food assistance due to unemployment because of COVID-19, working with food banks, soup kitchens and churches to deliver food to areas most in need.
Frank Water Projects, £10,000 – To go towards providing sustainable access to water, sanitation and hygiene education for communities in India.
Hope For Justice, £4,374 – This project, based in Uganda, specifically works with female sex trafficking victims offering a 12-week rehabilitation programme before being reintegrated into their families or alternative care arrangements.
Karen Hilltribes Trust, £5,250 – To provide school meals for marginalised children in Northern Thailand.
Kids Out, £5,605 – To provide a minimum of 92 Christmas toy boxes and 77 supermarket vouchers for victims of domestic violence entering women's refuges in Northamptonshire and surrounding counties.
Livingstone Tanzania Trust, £5,000 – To go towards a water, sanitation and hygiene project at a school in the Babati District, Tanzania. This will create a healthier school environment for 1,000 children.
Makhad Trust, £3,900 – To fund the installation of solar powered well pumps in high mountainous areas of Egypt to replace the use of expensive petrol driven pumps.
Phoenix Foundation, £4,000 – To help care and support homeless people get clean of addiction and address their mental health issues in order to get back to mainstream society.
Practical Tools Initiative, £4,000 – To help ship and distribute mobility aids, skills training tools and support of food items in Sierra Leone to help 300 of the most disabled vulnerable families in order to prevent children from having to scavenge for food.
Rushden Mind, £4,000 – To help with the implementation costs of the Speak Up project which aims to act as an early intervention service for young people up to the age of 18 to address the risks associated with mental health problems.
Taste, £5,000 – To go towards improving access to water, sanitation and hygiene which will improve the quality of life for 350 households in the Angwan Mission Community, Plateau State, Nigeria.
Thanda UK, £4,000 – To help distribute food parcels on the South Coast of Kwazulu-Natal.
Trust for the rehabilitation of the paralysed, £2,000 – To support vulnerable and disabled people in Bangladesh who need support due to COVID-19.
Wollaston School, £9,510 – To help provide disadvantaged students to have access to the required technology when the need arises for self-isolation due to COVID-19.
Honorary Life President's Fund
A £7,500 fund that is awarded to charities chosen by Godric Bader, our founder Ernest's son
Bolivian Quaker Education Fund
British Pugwash Group
Daylight Centre Fellowship
Peace Child International
Positive News Trust
Quaker Homeless Action
Quaker Peace and Social Witness
The Ghandi Foundation
Wollaston Heritage Society