A positive difference made by Scott Bader Middle East support in India
Working with Ruchika Social Service Organisation based in India, Scott Bader Dubai began supporting the organisation in 2017 through the Scott Bader Commonwealth.
The 'Self-Sustainability of Underprivileged Youth through Skill Development Education Program' was designed to improve the skills and employability of young people living in poverty. The program provides contemporary skills and training with job placement support to give them further opportunities in a competitive job market.
With the well-being of our colleagues, families and communities at the heart of the Scott Bader Commonwealth ethos, driven by our Constitution which is our manifesto of fairness, inclusion and responsibility, we are proud to have supported the program since 2017.
The 2022 group consisted of over 100 women aged 18-35 years covering a number of different trades and skills including cutting and tailoring, industrial sewing machine operations and beauty and wellness.
Below, we are happy to share just some of the many success stories from this development programme.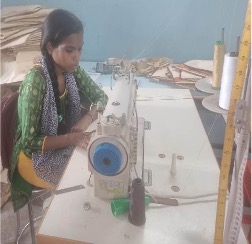 Sasmita, aged 34
Sasmita lived in a small village in Nayagarh with her husband and two sons, her eldest being disabled. Sadly, Sasmita became the victim of domestic violence for several years until her husband left. Sasmita soon learnt about Ruchika's Industrial Sewing Machine Operator Training Programme to support her family. She came to Bhubaneswar and joined the training programme. After completion and 3 months successful training she got a job in Sahi Exports as a Sewing Machine Operator with a salaried role. She thanks Ruchika and Scott Bader for their support to make her able to generate income and support her family.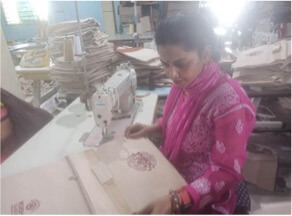 Debasmita, aged 35
Debasmita, a single mother, learnt about Ruchika's Industrial Sewing Machine Operator Training and joined the programme to provide income for herself and her daughter. After completion of 3 months successful training, she got a job in Ankita Toys Company in Bhubaneswar. She is very happy with her job and is able to support her family. After that she joined Hastika Pvt. Ltd. with a salaried role. She thanks Ruchika and Scott Bader for their support in helping her become independent.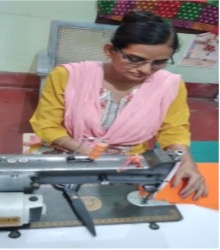 Anita, aged 33
Anita lives in Puri. Her parents passed away, leaving her to care for her two siblings, one brother and one sister. Anita wanted to generate an income to support her family, she was interested for learning stitching and sewing. She came to know about the cutting and tailoring training provided by Ruchika and joined. She regularly commuted from Puri to Bhubaneswar to attend the training and completed the course successfully. Now Anita is able to cut and stitch varieties as a designer of dresses. She expresses her heartfelt gratitude to Ruchika and Scott Bader.
Kalpana, aged 26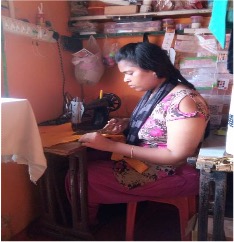 Kalpana is living at BJB Nagar Basti with her husband and their 3 year old son. Kalpana was always trying to search for some source of income in order to help her family and she found the Ruchika Tailoring Training Programme. She joined and completed the training programme successfully. Now she has started her own tailoring unit at home and is able to make a steady income. Kalpana thanks Ruchika and Scott Bader for its support.