It is with a heavy heart that we report Godric Bader, Life President of Scott Bader, has passed away at the age of 98.
Godric passed peacefully at home on Thursday 7th July 2022.
Godric made an incredible contribution to Scott Bader through his tenure in key positions within the company. He will be sadly missed. The heartfelt condolences of everyone at Scott Bader are with the Bader family.
Plans to honour Godric's contribution to Scott Bader will be communicated in due course.
Godric's legacy
Godric, son of Ernest Bader, joined the family firm in 1947 and both he and his father had a shared vision to find a way to help people seek a better way of living, but also to identify an improved way of doing business and of running the world's industries. Determined to see their vision come to fruition, based on their Quaker beliefs, Ernest Bader and the family shareholders put the shares into a Charitable Trust administered by Members of Scott Bader Commonwealth Limited and external Trustees and thus in 1951 the Scott Bader Commonwealth (SBCW) was formed, an industrial democracy and registered charity.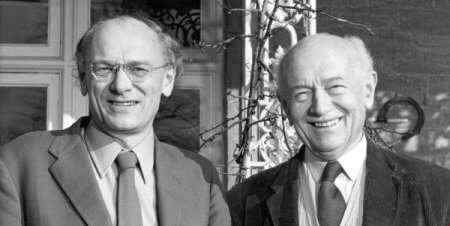 Godric was fundamental in the development and formation of the Scott Bader Commonwealth, and as the first company to hold a Common Ownership Certificate, Scott Bader was a trailblazer for this new type of business model with employee ownership at its heart.
When the Commonwealth was formed, a set of Principles which we continue to operate by, were established. Today these are our Values: Commitment, Responsibility, Team working and Fairness – and are accepted throughout the Scott Bader Group as the key principles we work by and are measured against.
It was through his tenure in key positions within the company – Managing Director of Scott Bader Company Limited from 1957 to 1971, and Chairman of Scott Bader Company Limited from 1966 to 1989 – that Godric guided and evolved this innovative employee-owned business model over the years.
The legacy he has brought to Scott Bader has been widely recognised and it will continue for generations.