Michelin starred dining in a golden Fabergé egg takes fibreglass to dazzling new heights using Crestapol® 1212
The stunning new 'miX by Alain Ducasse' restaurant at the 5 star Emerald Palace Kempinski Hotel on Palm Jumeirah, Dubai, opened in December 2018. This unique luxury dining and VIP area can accommodate up to 400 people. The miX restaurant, bar and lounge is spread across three floors beneath the main dome at the top of the hotel. At its centre, spanning all three floors, is a massive floating 20m high by 10m diameter golden Fabergé egg.
The imposing golden egg structure is a 190 sq.m steel framed cylindrical space. The exterior is clad in gold coloured fire retardant fibreglass panels, rated to EN 13501-1 'Euroclass' B,s2,d0, manufactured by Look Composites® using ATH filled Crestapol® 1212 resin from Scott Bader. The lower part of the egg hangs above the lowest floor of the main restaurant area; only the upper section is built into the main building construction, so from below it appears to be floating. Whatever floor you are on in the miX restaurant, a part of the golden Fabergé egg is visible. What is not visible is the intimate and very exclusive dining space within it, accessed by a lift from the lower floor of the restaurant.
Inside the fabulous egg is the exclusive members' private dining area, which is opulently decorated with intricate golden lattice arched side walls and ceiling panels right up to the apex at the top. All of the interior wall and ceiling sections are produced from CNC machined and painted glassfibre reinforced curved and flat Crestapol 1212 panels, produced to the same fire rating. Here, at the chef's private table, a lucky few can enjoy the exquisite food created by top Michelin-starred chef Alain Ducasse, in opulent surroundings with unparalleled views of the sea and Palm Jumeirah.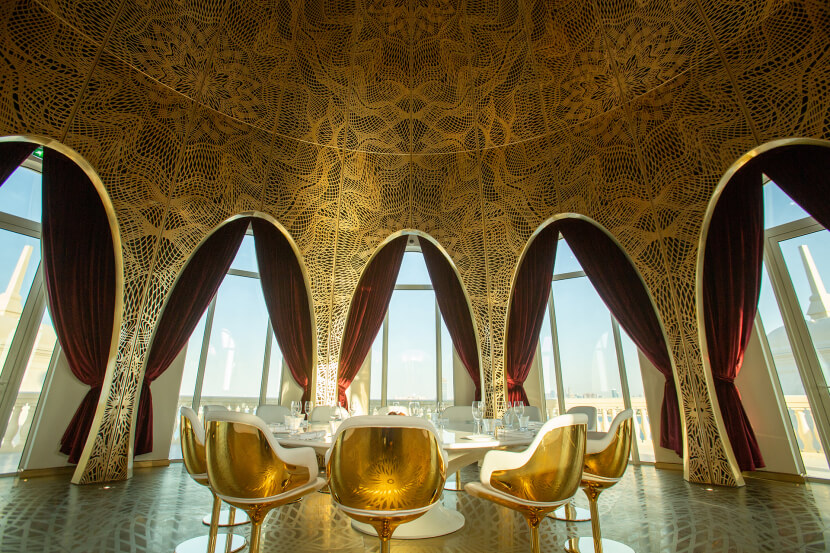 Four years ago, Spanish architect Manuel Clavel Rojo, founder of Clavel Arquitectos Asociados, Architecture and Interior Design, was given the commission and budget to create a luxurious, VIP private dining space like no other. It was the first project in the UAE region for Clavel Arquitectos, which has gained an established international reputation for coming up with high end, cutting edge, architectural designs from successful projects delivered from its practices in Murcia, Spain and Florida, USA.
According to Rojo, who was the principal architect for miX Dubai, the project was made all the more difficult by the fact that architecturally the private dining space had to fit within the constraints of the building design and layout of the new hotel being constructed. To create the right atmosphere, it was also critical that all the materials used blended perfectly with the rest of the interior décor with respect to style and colour, and the finish for every part had to be to the high standards demanded by a 5 star luxury hotel and a Michelin starred chef. The breathtaking golden Fabergé egg was the outcome of this very unusual and challenging architectural project. It was made possible by the design freedom of FRP composite materials to enable the production of such complex, double curved and intricate parts, which can also be painted to look like gold.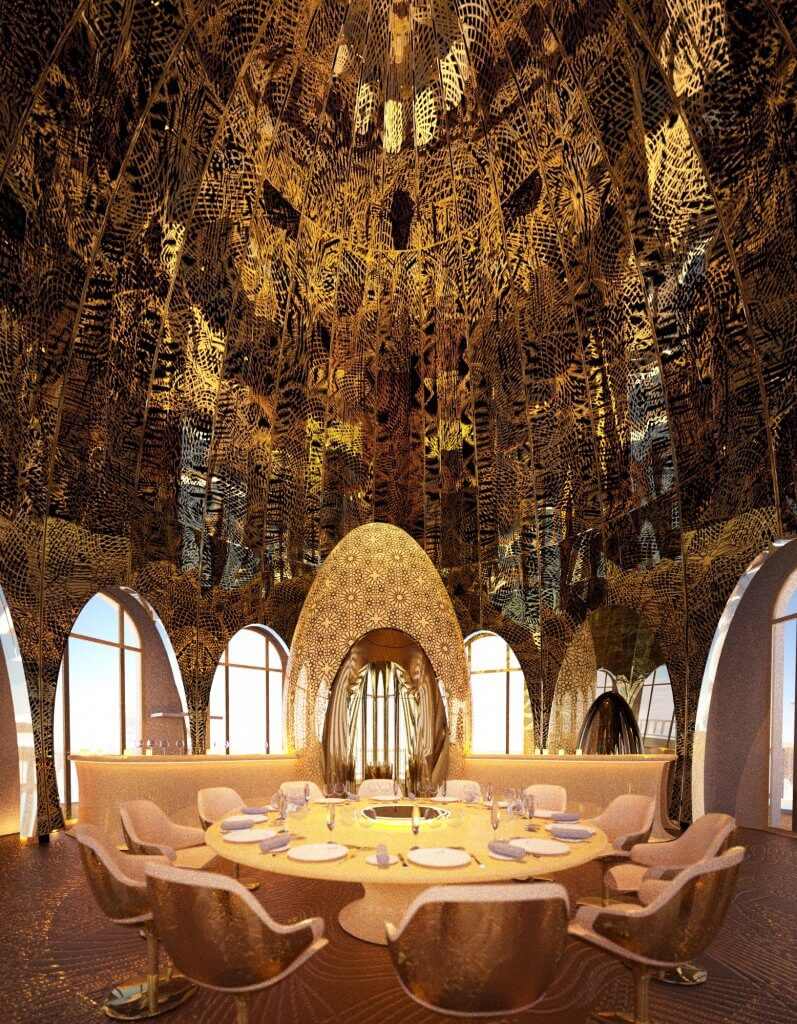 To make the architectural design of the golden egg structure a reality, Clavel Arquitectos brought in specialist architectural façades and parts fabricator Look Composites. Look Composites has expertise in cost effectively manufacturing complex shaped, curved and elliptical cladding and roofing designs, which has helped composite materials to be considered and specified in more recent years by leading contemporary architects.
The engineering and production team in Alicante worked closely with Rojo and the Clavel Arquitectos miX project team in Murcia from the outset, advising how to best construct and install the egg to the exact architectural requirements both structurally and aesthetically. The final approved production design and materials specified for manufacturing the egg were a combination of an elliptical steel frame with a building approved, fire rated, GRP laminate system for both the outer fibreglass cladding and interior lattice panels of the egg, based on Crestapol 1212 urethane acrylate resin.
The steel frame provided the load bearing structure for the entire egg. Both the steel frame and all of the fibreglass parts had to be produced in sections with suitable mechanical fixture points. More than 250 sub-components were manufactured in Alicante and shipped to Dubai where they were assembled on site.
To be able to accurately produce the 3D fibreglass shapes needed and meet the required fire performance rating, Look Composites specified glass reinforced Crestapol 1212 resin with 170 phr by weight of Alumina trihydrate (ATH) fire retardant filler for all of the complex shapes moulded and CNC machined fibreglass components produced for this project.
Mr. Antonio Mira, CEO of Look Composites explained why: "We have successfully used Crestapol 1212 for several complex construction projects. In our experience, it has proved to be the best laminate resin system to use for producing both exterior building cladding and interior fibreglass parts that must be very durable and meet the Euroclass B,s2,d0 fire specification. For us, the major benefit is that we can confidently hand lay-up or closed mould high quality, complex shaped, double curved FRP parts cost effectively, with high productivity, even when very heavily ATH filled to 170phr or more".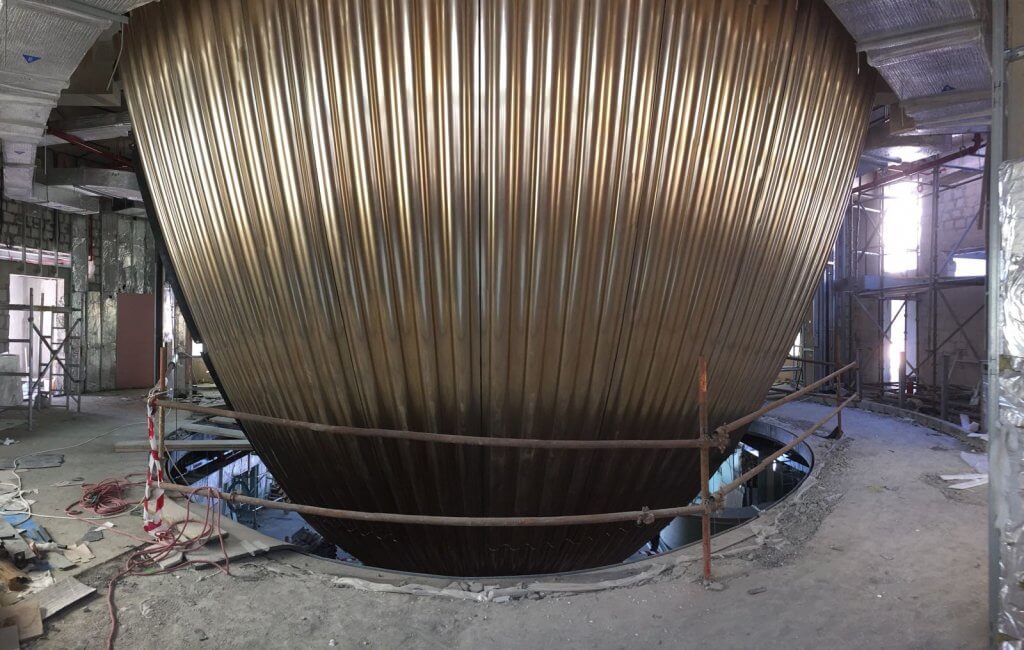 The installation in Dubai of the giant egg structure inside the dome area while the hotel was under construction was a challenge for the Look Composites assembly team. The first stage was to install the steel frame, which was bolted together in sections; it had to be centrally positioned and attached to the lift shaft framework located behind the egg, which ran up into the egg from the lower level main restaurant area. Once the steel frame and structural flooring for the egg were securely in place, the next stage was to bolt on the corrugated exterior cladding to the frame, segment by segment, creating seamless joints, with no mechanical fixtures visible from the exterior.
Inside the egg, as well as using mechanical fixings for the interior fibreglass wall and ceiling cladding and decorative lattice panels, Look Composites used a structural adhesive to bond hidden supports and sections together in places where it was not possible to use any sort of mechanical fixings. Crestabond® M1-05 and M1-20 primer-less structural adhesives, also from Scott Bader, were used which provided the specific working and fixture times needed; the M1-05 grade provided a 4-7 minute working time with a 12-18 minutes (at 24 0C ambient), with M1-20 having a longer working time of 16-22 minutes and 25-35 minutes fixture time. Both grades are 10:1 ratio toughened, two component acrylic adhesives supplied in 400ml cartridges for use with manual hand guns to permit precision application in difficult to access places. All Crestabond products are designed for bonding composites, thermoplastics and metals with minimal surface preparation required to achieve a long lasting bond.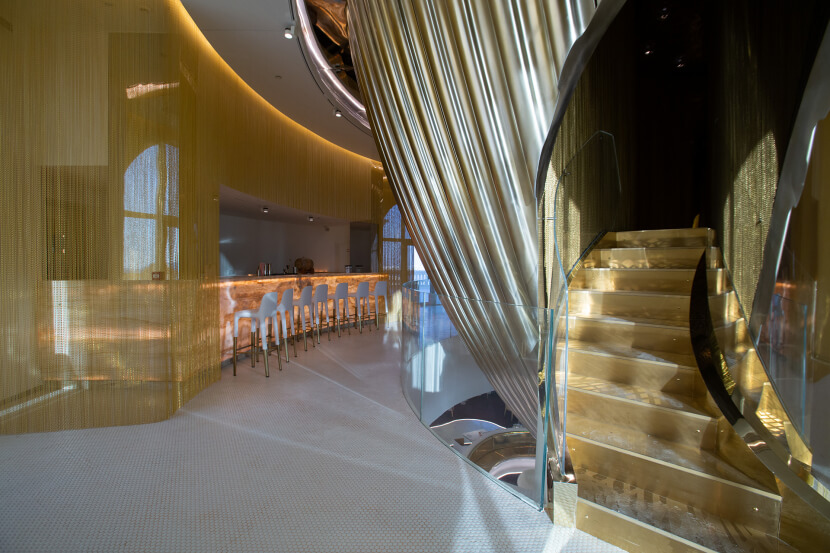 In more recent years FRP composites have proved themselves able to meet demanding building regulations and performance specifications. There are now viable alternatives to more traditional building materials as significant progress has been made by specialist convertors to offer practical, lightweight cost effective manufacturing solutions using fibreglass materials.
Architects now have so much more freedom to design buildings with complex, double curved 3D shapes, with virtually no restrictions on their creativity and imaginations. The result has been stunning new buildings and spaces, like the floating golden Fabergé egg dining area, which take architectural fibreglass to dazzling new heights.
Find out more about Scott Bader's composites and adhesives here