New Constitution heralds new era at Scott Bader
This week Scott Bader launches a brand new Constitution with a suite of supporting communication tools – calling upon colleagues to be even louder and prouder about using their unique influencer status.
Following two years of inviting input from a variety of stakeholders across the business, Scott Bader presented its brand new Members Guide and launch video at the AGM (Tuesday 25th July 2023). This distilled down format of the Constitution makes clear important changes to its governance and structure that reflect colleagues' voices and the needs of a modern, multicultural society.
"Not only will these new ways of working benefit our brilliant talent pool but the raft of social impact initiatives the group actively supports, the world over," says Group Chair, Paul Smith. "The whole Constitution review process has been exceptionally insightful and I'm excited for what this means as we move forward with an even more engaged workforce that fully embraces what it means to be an owner – getting behind the new Constitution, positively contributing, holding leadership accountable and having a greater say on what matters most to them."
Amplifying the voice of our colleagues
Scott Bader is immensely proud of the part it's played in pioneering the employee ownership model. For over 70 years colleagues have been nurturing the gift our founder, Ernest Bader, bestowed everyone in the business. But in those years the world has inevitably and irrevocably changed. The principles of industrial democracy that Ernest held so dear are as relevant as ever but, in 2021, the time had come to carve out a new Constitution and convey in, the simplest terms, the huge upshots our company's unique structure delivers.
Following a series of focus groups, town hall meetings, webinars and polls, there was almost company-wide consensus regarding the proposed changes afoot. In fact, with an 83% voter turn-out, it was the highest attendance level recorded in a decade, demonstrating that this was something colleagues truly cared about.
"I've been blown away by everyone's commitment to the Constitutional review and I know myself and future generations to come will be forever grateful for the time and dedication gone into making sure our business is in the best possible shape to sustain our enduring success," says Hansi Manning, the Bader family representative and Guardian Trustee who worked closely with the various steering groups to help bring the updates to fruition.
"We listened and I, personally, felt so inspired by the findings – I'm confident that what we've presented will support Scott Bader as we continue to grow, learn and unify for an exciting future as a leading international employee-owned business." 
Putting transformative changes into effect
The shiny new Members Guide and accompanying animation are the core outputs from what has been a long and involved process but the true outcomes remain to be seen. As colleagues familiarise themselves with all the ways they can live out Ernest Bader's founding philosophies through a modern lens, the months and years ahead will show the extent of cultural shift and the collective determination to genuinely make a difference. But early engagement with the process signifies a promising start to this new era and an exciting time in the company's history ahead.
Find out what this adds up to for Scott Bader's Members, all over the world.
Watch the animation below and learn more about a business that's been behind the employee ownership model – since the start.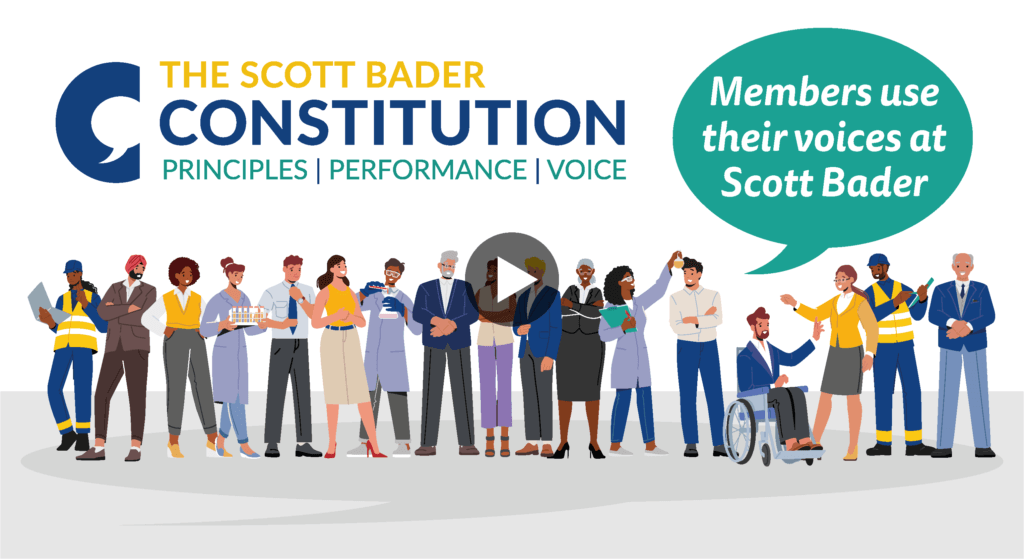 Key highlights: Launching the new Constitution in numbers
● 1,500 'live' attendees and over 3,000 'on-demand' viewings of the virtual events hosted throughout the process
● 500 responses to anonymous company-wide survey
● 40 participants in 4 externally facilitated focus groups
● 19 colleagues involved in 4 lead steering committees
● 1 Members Guide, 6 languages