Scott Bader on material trends in the boatbuilding industry
Scott Bader and IBI magazine recently sat down to discuss trends in the world of composite boatbuilding materials.
Most OEMs will be familiar with Scott Bader. Founded in 1921, we are a global chemical company and a leading supplier of resins, gelcoats and adhesives to the boating industry. Our expertise, however, also extends into shipping, aeronautics, general transport and wind energy.
The transfer of innovation between these industries is having a profound impact on the leisure marine sector, in particular the challenge of sustainable products and end-of-life boat disposal. Scott Bader's CEO Dr Kevin Matthews has a long-term plan entitled '2036 vision' which aims to address the most pressing issues with a tranche of new products and processes.
Bio-based resins
Scott Bader is one of several introducing a greater percentage of bio-content into a range of products, whilst still maintaining a highly dependable chemistry.
"We have been working steadily on bio-derived resin systems," Dr Matthews said. "When we reformulate, we also have to look at their role in skin coats, gelcoats and adhesives. These all go together to give the best overall performance for the boat, and it's a pretty complex jigsaw. When you make one change in a formulation you have to factor it through the whole system. Fortunately, we have a lot of experience of doing that.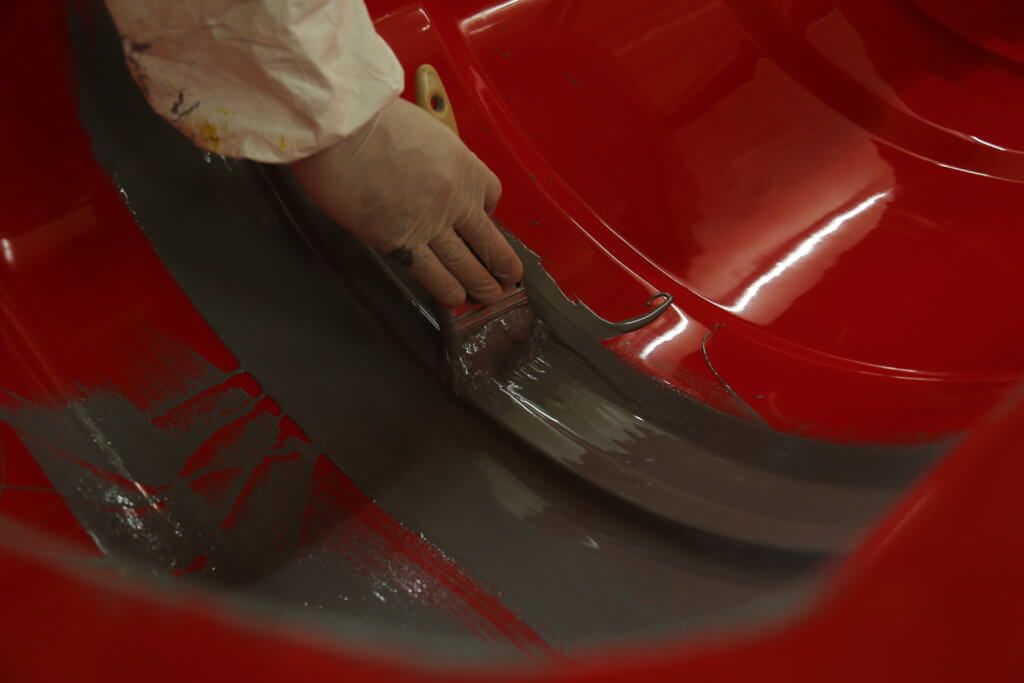 "We are also learning from the other sectors – we make high-performance gelcoat systems for wind turbine blades, with very low friction on the surface. That sort of technology is cross-fertilising into marine to give boat builders some very good finishes.
"We've also been developing a styrene-free Crystic Ecogel gelcoat system for other markets and we are ready to deploy that technology into marine when needed."
Tom Kugelstadt is Scott Bader's Group Technical Service manager, responsible for testing and assessing the  market readiness of new products.
"We have two main approaches to improving the sustainability of our products," he told IBI. "One approach is to maximise bio-derived and/or recycled content. The other is to consider how to process composite waste at end-of-life.
"One of the challenges for marine is what happens at the end of a vessel's life. If you build a boat to last for 25-years, you really don't want it to bio-degrade. Instead, you need to think about end-of-life solutions, or 'triggered' degradation. We have a number of programs with university collaboration, so this is an area of intense focus."
"The same thinking applies in lots of the structural composites, wind turbine blades being a prime example. At end-of-life you need to come up with alternative solutions to land fill. Manufacturers are currently interested in 'de-bonding', so you can deconstruct something with more options for recycling.
Reducing costs
"There are two ways to get cost out of a system'" said Dr Matthews. "The first is with raw materials, the other is how you use those raw materials in the application. Customers don't want to pay more than necessary for the various materials of construction, but if you want to save costs in one area you have to adjust the whole system for the best performance. For example, if a boatbuilder changes or upgrades a gelcoat, then we can also offer a perfectly compatible vinylester. We also wrap our products with a lot of technological support to help customers use our products in the most efficient manner".
From a marketing point of view, Ben Penney is keen to promote Scott Bader's green credentials to OEMs.
"When we look at sustainability in boatbuilding, there are several ways to approach it," he said. "One is to look at the raw materials themselves – what are the changes we can make from sourcing and manufacturing for a better starting point. However, there is also the case that if a product is hard to recycle, then you only use as much of it as you absolutely have to and reduce or eliminate waste."
Scott Bader is very keen to offer this type of Technical Support to customers, even if it means they may ultimately end up selling less product, as Kugelstadt explained.
"We help our customers with things like manufacturing audits, often across several yards in a group.  We can see the theoretical quantities of a given product from the design, and then measure what is actually being used on the boat. We then communicate with production managers to help them drive the right application practices in their teams. For example, if 1m2 requires 600g of gelcoat, don't use 2kg!"
"This also applies when bonding stringers and bulkheads. Say you are bonding something that should require a 5mm gap fill.  If the gap has somehow become 25mm due to poor dimensional control or other factors, you are adding excessive adhesive which may even cause aesthetic issues too. This Support is there to help improve the sustainability start point by enabling customers to optimise the amount of difficult-to-recycle products used in the first place."
Strategic Account manager Neil Kegg agrees. "We don't get involved in things like lamination schedules, or how thick the laminate stack needs to be, because that is very much down to the builder. Our role is to help them to use the right products, and in the best way to get the right outcome."
The rise of carbon fibre
"Composite use in marine splits into two main branches," Tom Kugelstadt said. "First there are polyester/vinylester resins which have grown up together with fibreglass, then you have the carbonfibre/epoxy composites for high performance vessels. These technologies don't necessarily overlap very well, but that is changing as we have developed resins based on urethane acrylate technology that work well with carbonfibre. You need a resin that is going to adhere properly with the carbonfibres to give the right mechanical properties. We released a urethane acrylate resin, Crestapol 1260, as part of our Crestapol range. I won't say it is compatible with all types of carbonfibre, as there are any number of sizing chemistry variations, but it does work very well with some of the most popular carbonfibres on the market. Crestapol 1260 also allows builders familiar with polyesters and vinylesters to work with carbonfibre in a similar way to what they are used to without having to take expensive steps towards prepregs and autoclaves."
Spray and extrudable products
For Neil Kegg, an ongoing sales objective is to introduce often very conservative boatbuilders into the possibilities of new products, or even enhanced versions of ones they already trust. Plug making is a typical example of an improving process.
"Often builders will make a plug using a polystyrene base," Kegg told IBI. "Although you can cut the surface easily, it isn't durable, so is usually built up with a hard-setting coating that can then be milled. Our Crestamould T27 and T28 tooling products are designed for this purpose, and once covered with primer and topcoats, can give a polished surface ideal for a high-gloss mould plug. The builder wants plug-making products that can be applied without voiding, so the shaping process won't cut through air pockets that then have to be filled. At the cancelled JEC World, we were due to launch Crestamould T29 – designed as a mix between T27 and T28 and both sprayable and extrudable as one product. Once set, it allows the boatbuilder to cut the shape in a clean, uniform way, and complete the milling in as short a time as possible."
The science of adhesion
Adhesives have had to become far more versatile as the mix of materials in a typical build intensifies.
"Historically, Scott Bader has a range of polyester type bonding pastes which we brand as Crestafix," Kugelstadt said. "We also offer Crestomer urethane acrylate structural adhesives for hull to deck joining. These are very strong, but the strength is blended with elongation. They are usually used on boats that won't be raced, but are often fitted with powerful engines, so still flex to a degree. More recently the range has included methacrylate adhesives under the Crestabond brand, the main difference being around the ability to bond dissimilar materials with shorter fixture times. Boatbuilders are now using combinations of metals, composites and thermoplastics and routinely bonding them together. If they are using notoriously difficult-to-bond-to pultruded carbon fibre sections for localised stiffening, Crestabond works well for these, too.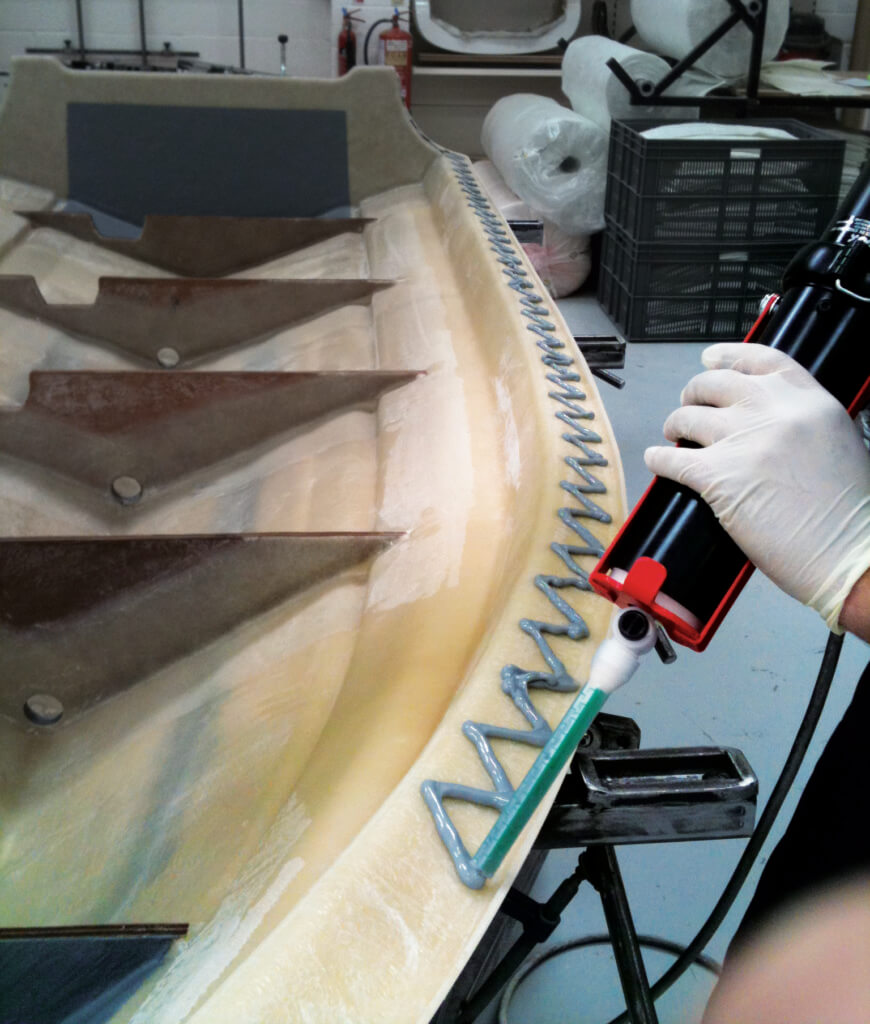 "Previously, if you wanted to screw into a sandwich core, you may have used a piece of plywood stuck to the surface with bonding paste. Once set, you then screwed the fitting into the plywood itself. The new Crestabond adhesives are very good for the type of metal stud fixings made by the likes of Big Head or Masterplate. The fast cure rate allows the builder to go around with a handy adhesive cartridge and within an hour they can actually attach the panels to the bonded metal fasteners."
Stronger reinforcements
"One of the big challenges here is being able to replace steel or metal equivalents with much lighter composites," Dr Matthews said. "Recently we have been able to take composite strength to the next level. In fact, we have just won an award for developing an industry-first curved pultruded carbon fibre bumper beam for a new Chevrolet, replacing its steel predecessor. As an industry, we can start to generate structures equivalent in terms of strength to steel, but obviously much lighter.
"We understand that our products aren't used in isolation so are very aware of reinforcement options and the types of processes used to build boats. In some geographies we have distribution agreements with selected foam and reinforcement suppliers. However, in general, there's an understanding that if a boat builder needs help with an evaluation, then we will lend our support. For example, if a particular boat builder asks if one of our resins will stick properly to 'foam x', we will help with testing, even though we may not supply 'foam x' ourselves. We want our customers to be successful, so we will do what we can to help."
Fire retardants and VOCs
The cross-fertilisation of advances in other disciplines, notably automotive and wind energy, is paying dividends for boat builders.
"A lot of our work in other market sectors is transferred across to marine," Kugelstadt explained. "As a case in point, I met a customer who was looking at implementing hybrid drives into his range of boats and needed the best composite material for bulk battery storage. There is no fixed fire standard attached to that yet, but with our experience from rail and tunnel projects we were able to explore a sensible approach for a fire-retardant enclosure. Another factor in this chemistry is thermal conductivity. If heat builds up in one area of a structure, how can it be safely transferred to avoid a 'hot spot' that could lead to combustion.
"Tighter regulations on volatile organic compounds (VOCs) released as fumes from some products, is also a key topic for us," Kegg said. "This applies to all manufacturing industries, not just marine, and the lower we can get VOCs the better. The processes themselves are a factor. A boat builder with an open moulding process, for example, will play more of a role in the exposure for workers compared to a yard with a tight vacuum-infusion process. Mainly derived from our wind energy sector, we have the technology to reduce VOCs and styrene emissions almost to zero, and some marine OEMs are already using this chemistry."
Covid and the supply chain
"We are committed to the industry, and right now we are in a good position and are ready and able to supply our customers," Dr Matthews said. "For me, it's just a case of understanding where the marine industry wants to be, and we will work with them to achieve that.
"Obviously, some of our customers will be concerned about materials they have in stock but won't be able to use in the immediate future. Shelf life is usually anything up to about 12 months depending on the product, but the 'use by' dates on fast-curing adhesives tend to be shorter. We will work closely with customers on this issue, so if they have a product with say a 3-month shelf life and it's 4-months old, we will help them decide if its fit for purpose.
Looking ahead
"We look forward to celebrating our centenary in April next year and paying homage to the journey we have been on since 1921. With a large part of that history spent producing composites in the marine space, we remain committed to understanding the demands and trends of the industry," Dr Matthews concluded.
"A lot of boat builders have told us that the sustainability issue has ramped up for them. Therefore it is important to make materials to meet this trend and get them into the final applications. There are a lot of challenges on the way. Thermoset plastics like GRP are hard to recycle, but there are currently no materials to replace them. You could arguably move back to metal hulls, but the extra weight will need a lot more fuel to move them, which could well negate the advantages of easier recycling. However, fibreglass boats last a very long time, so if you build them using bio-derived polymer systems, you are actually achieving an element of carbon capture, locking that carbon up for decades.
"Other industry sectors are a bit more advanced than marine in terms of sustainability, with products that we are able to repurpose for our boat building customers. Automotive is a good example. As car makers move to electrification and have to move a heavy battery around they need to make structural savings in weight. This is leading to new composite technologies that are very light and very strong, so ideal for fast boats.
"There is no quick solution to sustainable recycling, so we are investing in a number of different new materials and processes which are in our labs today. These will have a very clear path to bring them to market in the near future."