Scott Bader and Shape Corp. produce industry first curved pultruded carbon fibre bumper beam using Crestapol® urethane acrylate resins
Scott Bader and Shape Corp have worked in partnership to produce the automotive industry's first curved, multi-hollow pultruded carbon fibre bumper beam for the newly unveiled 2020 Chevrolet Corvette Stingray.
The pultruded bumper beam is manufactured using Scott Bader's Crestapol® urethane acrylate resins. Crestapol resins were chosen due to their market leading strength, toughness and lightweight properties as well as their ease of use and excellent bonding with carbon fibres. The substantial weight saving while maintaining strength was a particularly appealing property when compared with more traditional materials. The urethane acrylate resins have produced a superior lightweight carbon fibre component that helps to protect the rear and expanded boot of the Corvette.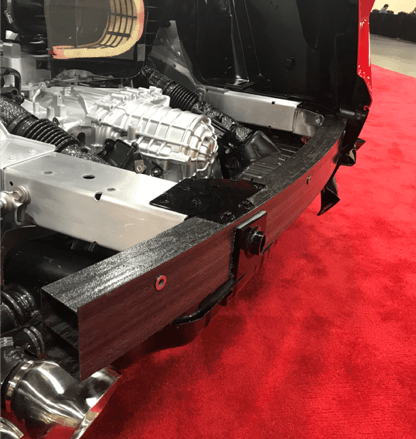 This is a significant project for Scott Bader as it's the first ever pultruded part within an automotive application. Scott Bader's technical team have been working in collaboration with Shape Corp. engineers since July of 2016, overcoming various barriers to get to this point. The success of the project showcases the superior performance composite parts can bring to the automotive industry.
"The attribute that we like the most about the Crestapol resin is the ability to withstand the temperatures of the E-coat paint process.  This part is assembled in body, so the part gets dipped and exposed to elevated temperatures.  The Crestapol resin provided a solution against other alternatives without compromising performance or process speeds.  In addition, this part has impact requirements, so resin selection played an important part in meeting all of the challenging requirements."  Toby Jacobson Plastic Materials & Process Manager, Advanced Product Development, Shape Corp.
 Scott Bader's involvement in the project doesn't stop there. As well as the Crestapol resins used to manufacture the bumper beam, Scott Bader's Crestabond® adhesives are used to bond the bumper beam to the e-coated steel structure at the rear of the car. Several structural adhesives were tested to find the best combination of strength and toughness to meet the crash, impact and durability requirements necessary to achieve Chevrolet's standards. Scott Bader's Crestabond M7-05 was successfully chosen due to its ability to bond under the high temperature test protocol.