Scott Bader is a pioneer of a truly democratic business structure having been the first company to hold a Common Ownership Certificate. In 1951, the Bader family handed over their shares to the 'Scott Bader Commonwealth Ltd' or 'The Commonwealth' as it is commonly known. The Commonwealth is a registered charity and holds the shares of the Scott Bader Company Ltd.
Scott Bader Colleagues can become members of The Commonwealth and as such become trustees-in-common of the company assets. Each generation must ensure the ongoing success and overall health and well-being of the company so that future generations can benefit from its continued existence.
Colleague democratic involvement is possible thanks to our unusual Governance structure. This structure of self-governance provides significant additional dimensions to business and employment relationships and our interaction with the wider community;
Business relationships are more sustainable because Scott Bader cannot be taken over – it is totally independent.
Workers have a greater role to play in the company than just performing their day-to-day role
Charitable status brings an obligation to the wider community
Management consulting with the relevant representative groups for business decisions
Colleagues are entitled to be elected to The Group Board, Company Boards, The Members' Assembly, and The Commonwealth Board.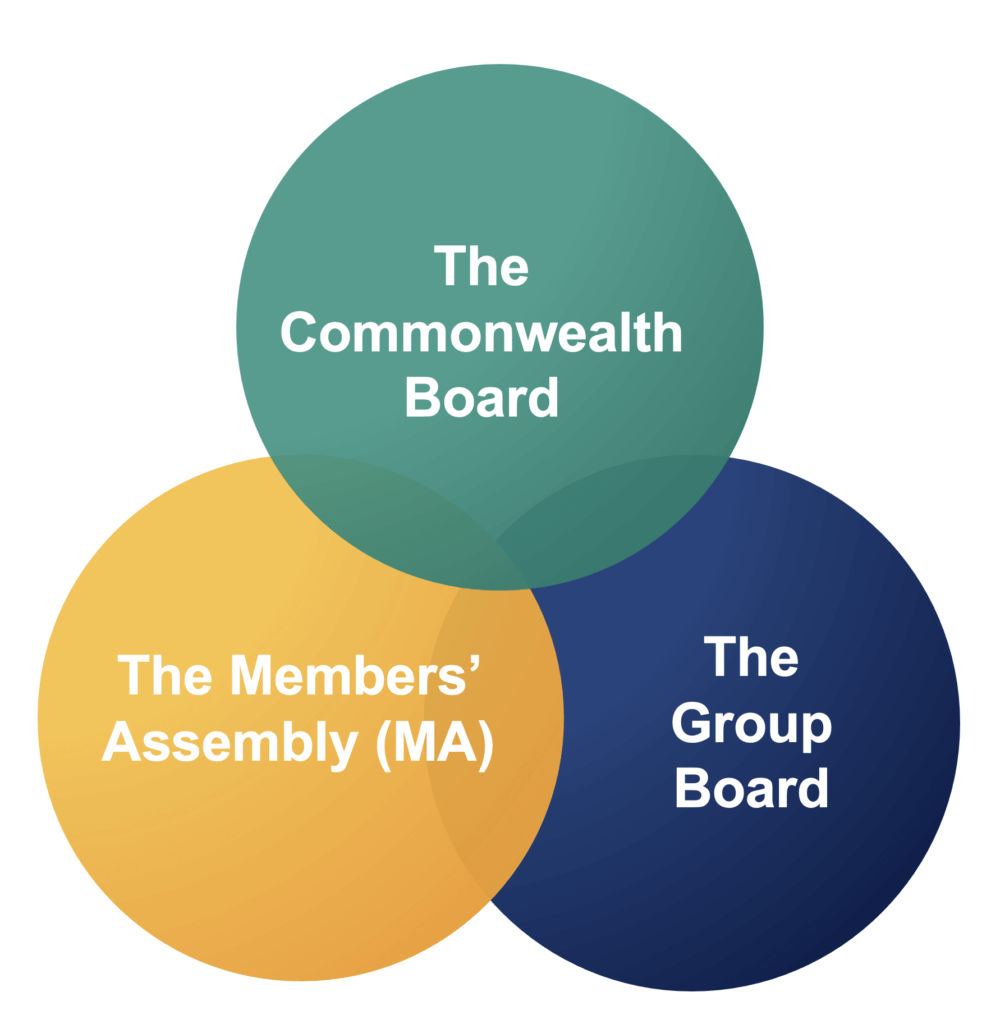 The Board of Scott Bader Commonwealth Limited
The Commonwealth Board is the holding company and a registered charity. All Members of the Board are Directors and Charity Trustees, and, as such, have to ensure that the charity is run in accordance with charity law.
The Commonwealth Board is not involved in the day-to-day running of the business but has responsibility for ensuring the company adheres to the Commonwealth Principles. So, the Board is consulted on topics such as future business strategies, acquisitions and the distribution of profits. The Board also monitors the development of industrial democracy within Scott Bader.
The Members' Assembly (MA)
The Members' Assembly represents Commonwealth Members and provides a democratic forum for the Scott Bader group of companies. The Group Board is accountable to the Members' Assembly for the exercise of its responsibilities and for the health and success of Scott Bader businesses. The MA also monitors adherence to the Commonwealth Principles and may discuss any issue.
The Group Board of Scott Bader Company Limited.
The Group Board deals with business and makes similar decisions to boards in traditional companies. These include financial, legal, policy and strategic decisions, but with the additional requirement to help promote the Charitable Objects, adhere to Commonwealth Principles and ensure the business is run in accordance with the Guiding Principles.
Scott Bader is a member of the Employee Ownership Association